Finance available | Best hair removal technology
ALLUX DUAL
Alexandrite & Long Pulsed Nd:YAG Laser
Preserving you with technology
Laser beam is transferred through fiber to the wanted area precisely without energy loss. Also, two beams can be used at the same time.
So it is very convenient to use and the treatment time can be quite short.
Cyro Air Cooling system is installed. So patients can be treated without pain and, downtime can be sharply shortened.
"We are passionate about leading the way by continually enhancing our technology to develop risk free and sustainable lasers of the future to improve and change the lives of many."

Applications of ALLUX DUAL
Hair removal
Arm, Leg, Beard, Bikini Line, Axilla, Fine Hair etc.
Vascular
Telangiectasia, Blue Vascular, Facial Flushing, Nevus Flammeus, Hemangioma etc.
The gas capacity for one bottle is very big (900g) comparing other products.
With one bottle, 25,000 shots can be possible in 4ms case. Also, it can be refilled within limited numbers.
Optimized automatic temperature controlling system. As per Alexandrite(755nm) or long pulsed (1064nm), temperature of water can be adjusted automatically.
Spot sizes can be divided very narrowly. It can make user be very convenient for treatment.
Auto calibrating system will be equipped.
Easier replacement for water and filter with one-touch system.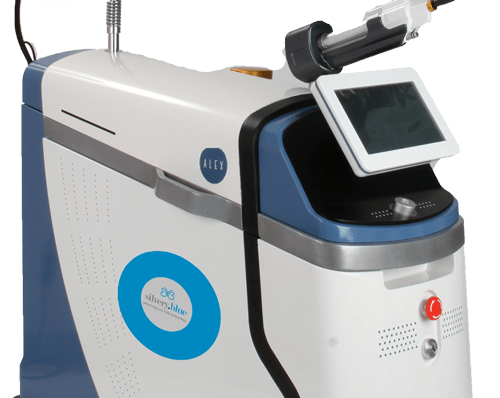 Different hair type
Applicable for both of Thick and Thin Hair
Protocol
Most convenient smart procols

Uniform and precise
Uniform and precise | High energy level
Effective
Minimises side effects and pain. Fast treatment and short down-time
Silvery Blue aims to reshape the healthcare and aesthetic industry with innovative ideas & technologies while preserving the essence of natural health and well being of human being. Our strategy is to empower medical and aesthetic professionals around the globe with a holistic approach to treatment and care. We provide a complete one stop solution from training, treatment, equipment supply, product delivery to quality control and compliance; all under one umbrella - "Silvery Blue".
| | |
| --- | --- |
| Laser Type | Alexandrite & Long Pulsed Nd:YAG Laser |
| Wavelength | Alexandrite : 755nm |
|   | Long Pulsed Nd:YAG : 1064nm |
| Pulse Duration | 0.5 – 300ms |
| Output Energy |   |
| 755nm  | 1 – 70J |
| (Max.Fluence) | (2229.3 J/cm2) |
| 1064nm | 1 – 100J |
| (Max.Fluence) | (3184.7 J/cm2) |
| Spot Size | 2, 3, 5, 7, 10, 12, 15, 18, 20, 22mm |
| Frequency | 1 – 15Hz |
| Aiming Beam | 650nm Diode Laser |
| Power Supply | 220-240V~, 50/60Hz |
| Cooling System | Cryo Air Cooling |
| Circulated Water Cooling |   |
| Dimensions | 920(W) x 420(D) x 970(H)mm |
| Weight | 105kgs |
|   |   |
Ready for a demo?
Please let us know as much information about you and your business in order that we can tailor the demo specific to your needs.