Strict and proven protocol to deliver best possible result
Scars and Uneven Skin
Peels | PRP | Microneedling | Co2 Resurfacing | Microdermabrasion  
Acne is a multifaceted problem encountered by signifiant % of population at any age. Its estimated around 9.4% of the worlds population and its currently the 8th most common disease

 

Wide range of innovative technologies to choose from to suit your individual needs

Strict and proven protocol to deliver best possible result

Natural way of stimulating your body to heal using mechanical and nutritional method to support healthy growth of natural collagen long term

We can help with this through many treatments including DNA analysis and prescription. 
"Patient safety, compliance to regulations, highest quality patient care and innovation are our primary focus in every treatment we deliver. ."
Sudden growth spurts ( puberty, pregnancy, weight gain)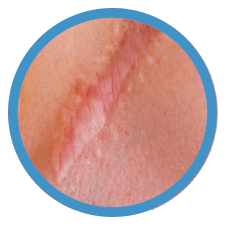 Surgical/Trauma
Caused when the body is injured or purposely cut/damaged. The body is unable to repair this from its existing resources and lays down a new different type of collagen. These may be raised, pink ( in the new growth phase), or flat and pale. They are often hypertrophic ( a build up of collagen), which means they look raised and red/pink in the early stages. Some will flatten and become pale with time.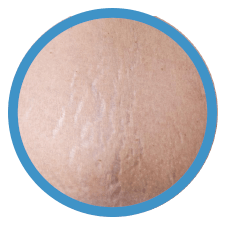 Stretch Marks
Typically occurring at a time where there is either rapid growth such as weight gain, weight training,  during pregnancy or puberty. They can also occur as a result of prolonged excessive stretching of the skin such as in obesity. They are usually quite red/ purple when new and fading to silvery clear. They are difficult to "cure" but in many cases can be improved if not too wide or long.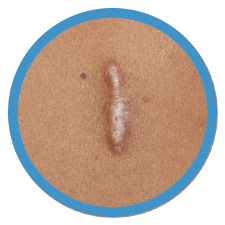 Keloid
Formed usually as a result of an injury and characterised by an over growth ( over healing) of the injury resulting in raised lumpy scars. More common in darker skins as a condition, who tend to have this sort of reaction to any skin trauma. Extra care should be taken if these clients are seeking procedures that aim to stimulate new collagen.
Burns
These are caused as a result of excess heat being applied to the skin. These often cause a constriction in the tissue which makes it less easy to move.
These are the side effect of outbreaks and can leave the skin uneven in texture, or be very noticeable. There are several different types but can loosely be categorised as :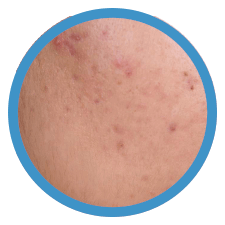 Macular Scars
Macular ( scars characterised with darker pigment/tone than the surrounding skin). They often look puckered in appearance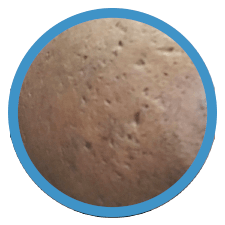 Ice Pick Scars
These are characterised with small, fairly deep holes that look like a puncture or stab mark by something sharp.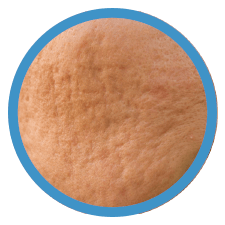 Rolling Scars
These are caused by tight structures or bands that run under the skin giving it a puckered appearance that looks like an undulating hill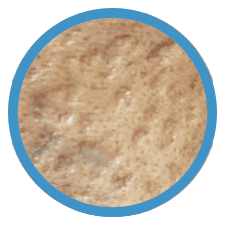 BoxCar Scars
Round or oval craters on the surface often referred to as pock marks
There are many methods to treat these conditions, and some are more aggressive than others. Generally a program of treatments is recommended for best results.
Some of the treatments are aimed at speeding up the healing process, and some are aimed at reducing the thickness or appearance of the scar
Your practitioner will undertake a comprehensive health and skin assessment and be able to advise you accordingly and allow you the opportunity to decide which option works best for you, and discuss maintenance of the results.
In some cases you may be able to receive a treatment on the day of the consultation.
Free Telephone Consultation
We provide a no obligation free telephone consultation. Following this you will be asked to complete various questioners depending on the treatment you have chosen.
Consultation
If you want to go ahead with the treatment following your free telephone consultation, you will have a face to face consultation with your practitioner.
Treatment
You will receive the treatment following by your written consent to accept the treatment. You will be asked to pay for the treatment before the treatment is carried out.
Follow-up
You will be asked to complete post treatment questioners in
order that we are able to provide you with best possible
aftercare
£60 - £200

£150 - £575

£375 - £1,100
About Peels
A chemical peel is a treatment designed to refine and improve a range of skin conditions. A chemical solution is applied to outer layers of the skin with the aim of either removing damaged outer layers, or stimulating their turnover.
The regenerated skin is usually smoother and less wrinkled or pigmented as a result. Peels can be combined with other treatments such as medical needling, home care and laser for greater effect. Peels are most commonly applied to the face, neck/décolletage, back or hands
Face - £500 - £750

Face - £1,200 - £2,000

Body - £650 - £900

1 Single Treatment (one area)

Face - £1,750 - £2,500
About PRP
Platelet-rich plasma (PRP) is a powerful treatment that involves using a patient's own blood as an injectable, to treat a variety of indications, such as hair loss, sports injuries, scars, wound healing and breast volume correction.
PRP stands for Platelet Rich Plasma. Platelets are full of Growth Factors which regulate the life of any cell in the body.PRP Therapy uses your own Plasma which has been separated from your Red Blood Cells which are activated and then injected back into your body.
About Microneedling
This involves the pricking of the surface of the skin multiple times with small needles to cause micro-injuries that the body recognises as a minor injury and results in regenerated and renewed skin and improved skin turnover. Our clinic uses a needling pen device as they are designed to adjust to different depths during various treatments. 
Mesotherapy as a term describes the process of needling in conjunction with the delivery of active ingredients to the skin. These include vitamins and minerals to increase hydration, pigmentation reduction or inhibition products, and products that reduce inflammation or oil production.
£350 - £650

£1,240 - £2,250

£2,000 - £5,000
About CO2 Resurfacing
Laser resurfacing using Co2 laser is a renowned, safe and effective treatment for a variety of skin conditions. Co2 lasers connect with the water component in tissue. The aim is to create a small amount of damage, the recovery from which improves a variety of conditions. There are 2 ways to signal the body to create new collagen. These are to apply either heat, or mechanical damage. This has to be done in a controlled way to reduce the risk of adverse reactions and stimulate long term new collagen.
The Silvery Blue CO2 device delivers it's beam in a fractional mode. Fractional laser means that recovery is often quick and downtime reduced. This means that it causes micro injuries that simultaneously fracture the surface of the skin and deliver safe levels of heat to the tissue.. These actions simultaneously trigger new collagen growth in 2 different ways over a period of weeks and months.
About Microdermabrasion
It is a non-invasive procedure that uses tiny crystals or other exfoliating surfaces to help remove the superficial layer of dead skin cells.
When you take away the stratum corneum, or the top layer of skin, the body considers it as an injury. It then quickly replaces the lost skin cells with new, healthy ones. The entire procedure usually takes about 30 minutes for the face.
The machines can buff and polish the skin using a stream of fine crystals or a diamond tip, while some also vacuum loose skin cells from the face.
Ready to Make a difference
to your life?
Our nurse is only a phone call away. We are here to listen and support!